Sydney Beers
TEA WITH TOM AT ACP
3rd November 2007
Thomas Jeppe is taking at the ACP today on publishing at 3pm. Other speakers on the panel include someone from Thames and Hudson and also someone from a gallery in Brisbane. Will be insightful.
CONOR O'BRIEN at ACP
6th October 2007

Get to it!
IN THE COMPANY OF THE DEAD
23rd August 2007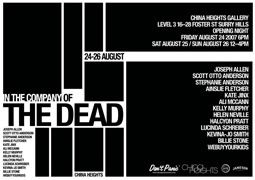 I have some work in tonight's show at China Heights. You better be there!
PIXIE SHOW - On Now!
21st July 2007

AT MONSTER CHILDREN GALLERY.
Serps giving love
27th June 2007

Serps is down with Streetbeers. Check their blog at http://theserps.blogspot.com/
Shamanical Friday Night at the Heights
6th June 2007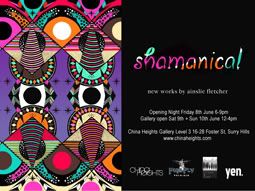 Ainslie's show will be great! All down there.
IzRock / He She It They I / Mark Tronics at the Zine Fair
29th May 2007

Come see our shitty table at the Sydney Writer's Festival Zine Fair. It will be hilarious, us geeking with our zines and thermos. Saturday 2nd June, 2007. 12-5PM Pier 2/3, Hickson Rd.
Three Shows in a Rows!
28th May 2007
"Otherworlds" curated by Glenn Barkley at King Street Gallery on Burton St (strange as that sounds) then off to the Lister show "Mythology for Beginners" at Harrison Galleries
and then Sam Stephenson photography show - 72b Fitzroy St, Surry Hills. All shows 6-8pm.
IN THE COMPANY OF OWLS Friday 25th May. 2007
22nd May 2007
Come to China Heights this Friday for this show I have some pieces in. Also showing are Dave Ladd, Steph Anderson, Kavina Jo-Smith, Kelly Murphy, Fiona McGee and some others.
FUCK YES - IT'S FRENCH!!!
11th May 2007
French will be having a show at Monster Children Gallery on the 24th of May from 6pm. It's called FUNERALITY and there will be some large mural action to support the works. FUCK YES!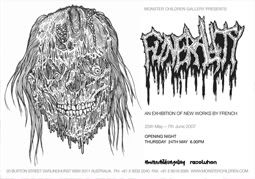 R.I.P. Shane Cross
7th March 2007
Thoughts go out to friends and family of both Shane Cross and Ali Boulala who were in a motorcycle accident the night before last. RIP Shane. Get Well soon, Ali. Love and proceeds of tonights Fred Mortagne show will go out.
FRENCH FRED MORTAGNE at Monster Children Gallery 8 March 7PM
4th March 2007
Fred will be hanging his photos in the gallery for all to see on the opening night. 7PM Thursday. See you there. Show finishes 16th March.
ED and DEANNA TEMPLETON at ACP Thursday night 6.00PM
27th February 2007
Ed and Deanna have another show opening this Thursday. Obviously it will be great.
KILL PIXIE and ED WOODLEY - JAILBAIT - FRIDAY 23rd FEBUARY AT 6.00PM
15th February 2007
Don't miss this return to collaboration from two of our finest Sydney residents. I have seen some pieces and they are mind-blowing!
The INVASIVE EMBRACE exhibition. Up till the 1st March at Monster Children Gallery
9th February 2007
The show includes Ed Templeton, Deanna Templeton, Jim Houser and Dmote. It's up now and it rules. Come check it out. I didn't post any pics cos that Cobra Snake fella already did.
ART DUMP @ Monster Children Gallery Thursday 11th Jan 7PM
4th January 2007
Girl Skateboards Art Department(ers) Andy Jenkins and Tony Larson are in town showing their collaborative works with Andy Mueller (also of Quiet Life fame) at the gallery and it start 7PM on Thursday.
Steve ESPO Powers TONITE 7PM Monster Children Gallery
6th December 2006
Steve Powers opens his show at Monster Children Gallery tonite. Come on down and see it. The show is amazing. Then aftershow party at 34B. DJs Cut Price, Ironman and Dollar Short. Oi!
Glenn Woodley - China Heights Friday 1st Dec
29th November 2006
Ed's dad is showing works at China Heights on Friday night from 6pm. Get down there for this family affair.
Shows and Parites - 30th November
29th November 2006
David Griggs has an opening at Kaliman Gallery tonight from 6PM And there is a Vice party at the Flinders from 7PM - 9.30PM
Sixteen x Twelve
2nd November 2006
Friday 10th of November 6PM. Monster Children Gallery. Group Show includes Mike Giant, French, Marcus Oakley, Stefan Marx, Kill Pixie, Edward Woodley, Fos, Andre Razo, Andrew Pommier, Yuka Katagiri and many more. After party too.